A Mandarin Cosmo at
Jasmine's Asian Fusion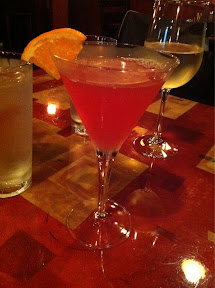 Larry had the Crispy Chicken with Sesame and Garlic (Hot & Sour Sauce) with Sticky Rice. You eat the rice with your fingers and dip it in the sauce, which makes the meal so much more fun.
The rice is served in a little basket
I had the Stir Fried Vegetables with Black Pepper Sauce. A little blurry but very good (the food).
- Posted from my iPhone